Custom Responsive UI/UX Design Solutions
Our design team are experienced in both User Interface and User Experience concepts. Our UX experts ensure that customer experience is excellent at the front end of our website products. They work to increase customer satisfaction by improving the overall usability of a website, implying simple methods and adding value to product communication.
Our UX designers concentrate on strategy and content analysis, wireframing and prototyping, and final execution/analytics. Combining these elements to deliver beautiful websites that are innovative and fully functional.
Our UI team implement ideas and strategy as a result of the requirements made clear by the analyzing of UX analytics. They concentrate on tasks such as raising band strength and enhancing the visuals on a website to enhance the end user experience. Our UI experts also work on coding custom builds from scratch. This all works in synergy to improve the look and feel of a website, and also to guarantee the website is responsive, changing to perform and look fantastic across all mobile, tablet, and desktop devices.
Out UX and UI teams work closely to create compelling designs that compliment a company's branding strategy, whilst enhancing their products or services.
Mobile Apps UX/UI Design
In addition to being a full-service web design company, we also create high converting, fully functioning UX/UI mobile applications for Apple iOS, Windows Phone, or Android devices.
We start by conducting a detailed project analysis and roadmap working closely with our clients. Next, our design team create and develop streamlined functionality that works perfectly across all types of mobile screen. Our UX/UI specialists create layouts and wireframes whilst ensuring that your application will respond to every click, poke, or swipe of your analyzing mobile phone screen.
We make sure that the design of your mobile application is consistent with your branding and uses your existing company colour scheme, fonts and graphic design style. However, if you decide that you want a standalone app with new colour schemes and a different look to your existing brand, we'll create various design mockups until we find one that you are completely satisfied with.
Redesign Existing Websites
Is your current website dull and flat? Is It ranking poorly with search engines and experiencing high bounce rates on important pages? Do you want more traffic, leads, and increased revenue?
Here is ClickWebStudio we don't believe in a website that is preventing you from meeting your goals as a business.
That's why we offer full-service redesign services for all existing websites. We want to help you change for the better, and start to achieve the true goals of your business, and a full website redesign is the first step in a better direction.
Our website redesign services will help to increase conversions from existing traffic whilst increasing traffic at the same time. Our dedicated team can work closely to rebrand your website, creating a more responsive, eye-catching, attention-grabbing design for your customers. Our website redesigns will also offer you peace of mind whilst helping to increase your online marketing ROI.
Our team will create multiple design prototypes for you and your staff to peruse and choose between. All of which will use the latest in innovative design concepts and software to create the best possible products that have a fresh look and feel, with better functionality and usability all around.
Our complete website redesigns all come with regular maintenance, security, and updates throughout the year. They are backed up with SEO options, and content analysis services. They can also include updated analytical software and reporting.
Branding and Product Design Services
Our designers are multi-talented, coming from a broad range of Advertising, PR, Marketing, Graphic design, and Corporate Design backgrounds.
We offer branding and product design services that enhance your offering and help you to expand your digital and physical presence and offering to your target market.
Whether you are naming a new product or service, in need of a logo, or need a redesign to differentiate from your competitors, we have you covered. We help businesses understand the desires of their target audience and shape their branding to appeal and resonate with their existing and potential client base.
We help you to blend your business personality and project the true values of your business in a way that entices and excites your target market.
We create unique and consistent branding and brand messages that utilize colour, typography, websites, stationery, logo's and content to work in synergy and get your message and personality across. We help you create memories and innovate ideas in the minds of your customers and your target audience. Enquire today for full branding analysis and rebranding suggestions from our team of marketing, advertising and design experts.
Results of our partnerships.
Company Website for BC Best Flooring
Best flooring company wanted a responsive website that looked fantastic and showcased their excellent work to their prospective clientele. For this project, we built a fully customized Wordpress website from scratch. Build from wireframes to completion, we created a beautiful image-led website that best displayed the craftsmanship of the Best Flooring Company.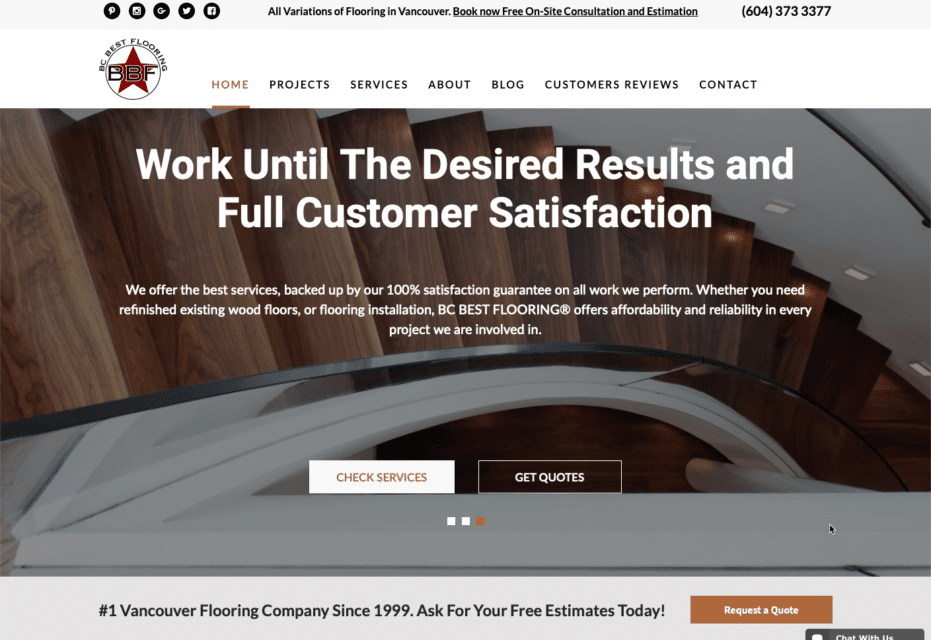 E-Commerce Store for EccoBikes Inc.
EccoBike came to us looking for a beautifully designed website that would showcase their electrical bikes and allow their potential customers the opportunity to book demos for their products.