Complex Automated Portals
Our professional team has years of experience creating automated portals and intranets that serve the needs of our clients. We help you to fit the latest portal technology into your business processes and procedures. ClickWebStudio provides innovative web portal development solutions that offer stunning user interfaces, informative content, and fully customized API's.
We implement today's cutting-edge technology into each portal project that we create, synergizing tech with seamless design and user interfaces. Our automated portal development services include intranets and extranets, portal integration, team workspaces, knowledge management services, HR portals, and business workflow automation.
Business and Landing Pages
Whether you require a specific, bespoke landing page for the purpose of sign-ups, promotions, installations or sales, we've got you covered. We develop beautifully designed landing pages that hold attention, increase conversions, and generate a high return on investment for our clients.
Our landing pages combine informative and keyword rich content with innovative design and structure, featuring solutions and call-to-action for your customers and potential customers. They are structured using the science behind Conversion Rate Optimization (CRO), helping to generate sales and interest in your product or service.
We develop fully responsive and multi-functional business pages for our clients, each individual project is developed from scratch with features and plugins that are unique to the requirements of the individual product or services that our clients offer. We combine front and back-end development with beautiful design, taking your customers on a unique user journey that leads them to a purchase, or to the information that they desire to influence a decision.
Our business pages are built to be effective in facilitating the growth of your company. They are developed for optimum performance and functionality in today's competitive marketplace. We offer full-service e-commerce solutions, creative branding solutions, and custom programming ideas that can be developed to make a complex idea into a stunning, feature-rich website. A website with fast loading speeds and slick functionality that will be accessible, appear at the top end of searches and will impress your existing and potential clients again and again.
Websites with Complex Payment Solutions
We understand the need for fully secure, lightning fast payment solutions for both businesses and their customers.
Whether your business needs payment solutions for event registration, charitable donations, or secure payment for goods or services, we work closely with you to streamline the most effective payment solution for your needs.
Our development team source the best payment providers for your business, adding payment gateways, payment processors, payment services or systems, and merchant accounts where appropriate.
Our payment solutions are fully customized in-line with the technology and services desired by our clients and their businesses. Whether it's PayPal integration, or fully integrated Apple Wallet payments, direct debit services, or crypto-wallet services, we create payment solutions that are simple and effective.
What use is a beautiful e-commerce website that showcases your amazing product range like the most expensive shop window display built by an interior design professional if you can't purchase anything? We understand our customers' needs for fully integrated payment solutions and implement them professionally.
We offer full financial reports and analytics to make your accounting process as automated as possible. Making an end of year forecasting and data-driven marketing decisions simple and efficient.
Customer Support
We understand that customers may require accessible support solutions when navigating through the websites of our clients. That's why we offer full-service customer support development solutions.
From Text-to-Chat services, Chat-Bot-Messengers, Voice-Calling-Systems and Skype integration through to bespoke automated ticketing systems that link to a CRM intranet for individual replies to queries, we fulfil the customer service needs of our clients and their customers.
When one of your customers has a problem or question, we help to create a range of communication methods by which they can make contact with your business. This is complemented by a bespoke range of methods for you and your colleagues to reply to each individual query. We develop bespoke dashboards in line with your branding and fully integrated into your website, making streamlined communication a standard practice in our development work.
Results of our partnerships.
Company Website for BC Best Flooring
Best flooring company wanted a responsive website that looked fantastic and showcased their excellent work to their prospective clientele. For this project, we built a fully customized Wordpress website from scratch. Build from wireframes to completion, we created a beautiful image-led website that best displayed the craftsmanship of the Best Flooring Company.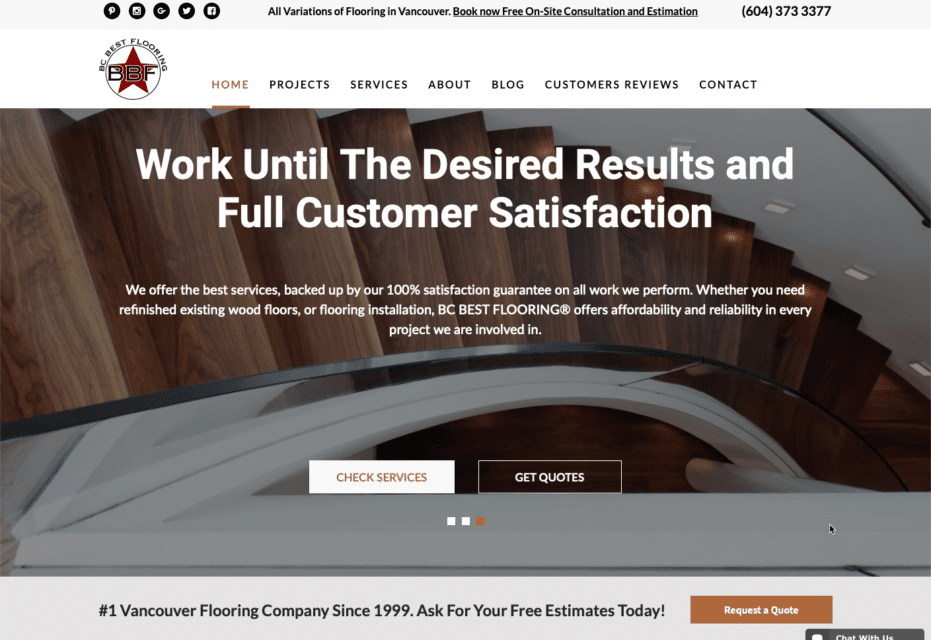 E-Commerce Store for EccoBikes Inc.
EccoBike came to us looking for a beautifully designed website that would showcase their electrical bikes and allow their potential customers the opportunity to book demos for their products.