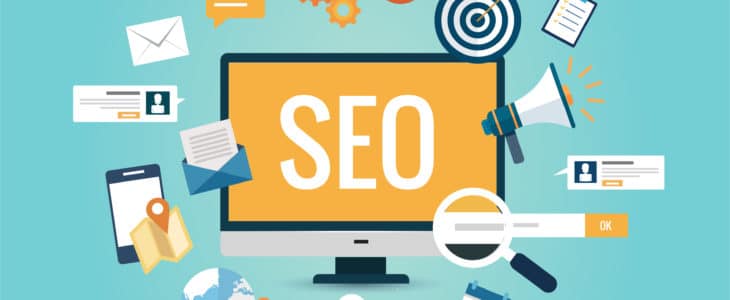 Do you ever hear people say, "Let's Yahoo it", or "Let's Bing it" if they want to search for something?
Me neither.

Google is the largest search engine to date (it even passed as an official word in the dictionary!); it's also one of the largest sources of traffic for websites.
If your website is not optimized for search, you're missing out on all the great stuff – increased rankings, high-quality visitors turned into paying-customers and the like. On the other hand, over-optimizing or wrongly optimizing will negatively affect your website and even lose existing traffic.
With that said, it's important to optimize your posts to maintain or improve your search engine rankings. Here are eight ways to optimize your blog for SEO.
1.    Choose A Killer Topic And Headline
What's the use of a beautifully written blog post if it isn't relevant to your readers? Every successful post begins with choosing a topic that resonates well with the audience. The title, subheadings, media, and CTA all depend on the topic you choose.
If your audience likes what they read, they'll most likely share it on social media platforms and spend more time reading other articles on your website. When people read and share your content, this tells Google that what you've written is valuable and will, therefore, rank higher.
Finding a great topic isn't enough. It's equally important to come up with an enticing headline because apparently, 60% of your readers won't get past that. Not only will a great headline capture your audience's attention, but it also urges them to click on it and read.
2.    Don't Forget The Meta Description
Meta descriptions do not affect SEO ranking, but it's what your audience sees when they're scrolling and browsing their options. It's important to have a strong meta description that contains relevant keywords people usually search for.
It makes a huge difference since it compels people to click on your website instead of the others on the page.
Make sure to not go over 300 characters when making your meta description since Google doesn't show anything beyond that on the SERP in the description field.
3.    Use An Alluring Featured Image
Featured images are usually shown at the beginning of every blog post; they play an important role in maintaining and building the interest of your target audience. Make sure to choose an attractive photo since it'll be the one displayed on social media posts when readers share your post on Facebook, Twitter, LinkedIn, and the like.
These images have to be related to the article. It should also be interesting to capture their interest. You can even use an image that displays the title of your blog post.
4. Create Relevant Sub-Headers
Nobody wants to read a long article without sub-headers. These headers break your article into readable segments. This helps improve your blog's readability and overall user experience. It also helps Google understand what your post is all about and the subtopics covered.
The titles are usually written in H1 heading, so ensure that every point in your post is written in a different sub-header, preferably the H2 tag. You can use H3 sub-headers but make sure they're placed under H2. Long-tail keywords should be included in your sub-headers and are usually placed at the beginning.
5.    Write A Sufficient Amount Of Text
Did you know that most of the top 10 Google search results have 2,000-2,400 words? Additionally, another survey says that long-form posts garnered more engagement and attention than short-form ones. The body is where your readers will get what they searched for.
While the length of the post matters, it should still be easy to read or else your readers will get bored and leave your page without reading the entire thing. Each paragraph should only contain two to three sentences. You can also insert images, infographics, videos, and the like.
6. Include Relevant Internal Links
Internal links are one of the major ranking signals for search engine algorithms. Asking another website to link to yours isn't an easy process. But when it comes to relevant internal linking, you're in control.
Every time you write a new post, you can link previous blog posts – the ones already published – that relate to whatever you're currently writing. You can also add an anchor text that is related to your target keyword.
7. Add Multimedia Elements
Most people have a hard time staying focused when reading long articles. The remedy? Add multimedia content whenever possible to segment your article and keep your readers engaged. The following are examples of multimedia elements you can incorporate into your post:
Images & Illustrations
Podcasts
Videos
Infographics
Interactive graphs
Social media posts
Quote Visuals
Screenshots
Presentation Slides
Adding these elements not only increase the value of your article but it also makes encourages your readers to share your post in their social media accounts. Some people may share your article because of the video you posted or because of the infographic – whatever the reason may be, it will benefit your website in the long run.
Adding multimedia elements help you earn backlinks that will help improve your blog's search rankings.
Better yet, you can make your multimedia elements individually shareable – meaning your readers won't have to share the entire article, just the element they want. This definitely increases the reach of your posts.
8.    Present An Irresistible Call-To-Action (CTA)
Do you want your readers to leave your blog without doing anything? What's the purpose of your post? Close your post with a useful CTA that engages the readers even after they're finished reading your article. Here are four tips to create a compelling CTA:
Offer advice coupled with actionable steps
Provide a checklist
End with a question to make room for comments and further engagement
Link to resources and tools from your blog
Your readers should be able to feel that they learned something from your post. Adding a CTA coaxes them to click on a link, read more from your blog, sign up, or what not.
Do you have any additional tips to optimize your blog for SEO? Share your thoughts in the comments below.